Small design features are one of the most crucial aspects of any interior design. Without proper accessorizing, your spaces won't have the same effect as if you left the walls bare. Among all décor items, centrepieces tend to make the biggest impact within any room, and what can trump a prime focal point other than beautiful statement artwork or a triptych mirror?
So today, let's take a look at how you can incorporate a triptych to create a beautiful, eye-catching focal point in any room in your home. The following ideas are a great way to help you determine what type of triptych to hang on your wall, where to hang it and of course how which you will find at the end of this post. We hope it helps you make a great decision for your home or inspires you to make a bold statement and spice up your walls.
What is a Triptych?
A triptych is a piece of art that spans across 3 panels, rather than the standard single frame. These multi-panel artworks are extremely impactful and looking stunning in larger spaces.
Ideas and Inspiration:
An Eye-Catching Mirrored Room Centerpiece
Triptych mirrors have a huge impact on a room's decor. The double dose of functionality as a mirror and it being a triptych instantly turns it into a piece of art with a bold yet stylistic appeal that only looks the best when you use it as a centerpiece. Therefore, the perfect place to accessorize a traditional or classical style interior is by hanging the triptych mirror right in the center of the room. The rest of the layout can be tweaked to add a symmetrical edge to the whole design.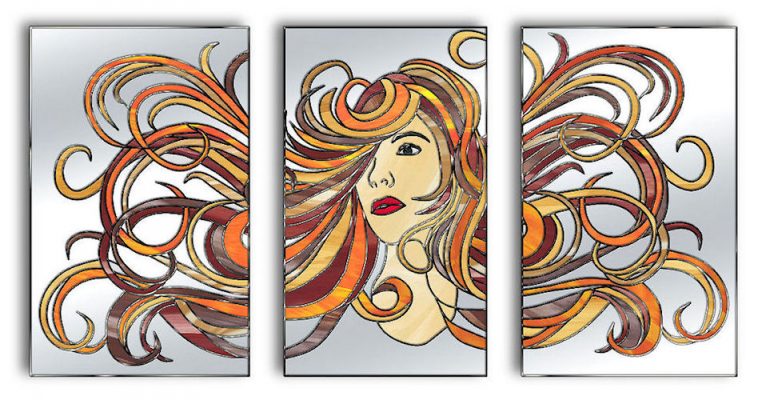 Here are some of our favourite artistic Triptych Mirrors from the collection:
Contemporary Glamour
A modern iteration of the triptych mirrors can be used to evoke a sense of artistic glamour and intrigue in a contemporary interior design. Once again, the trick lies in using the mirrors as centerpieces while arranging the rest of your layout and décor around them. Such mirrors can look absolutely gorgeous when used on feature/accent living room walls.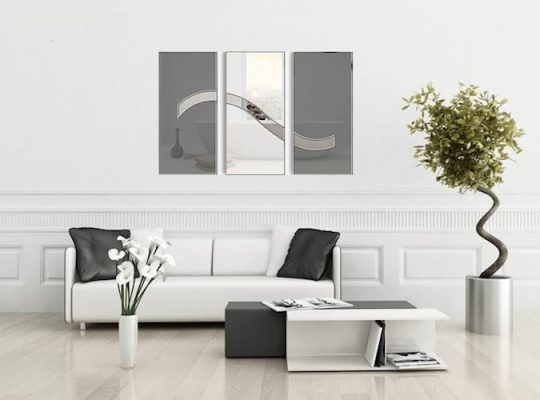 Instead of Wallpapers
Oversized triptych-style artwork can be a gorgeous replacement of feature wall wallpapers. You can simply paint your walls in an understated hue and carefully arrange the artwork in the middle of the wall. Oversized triptych artwork often looks best in undersized bedrooms with cool, relaxing colour schemes. Because of the small size of the room, the artwork has a lot more presence and artistic integrity as compared to larger spaces but this ultimately depends of the rest of the rooms décor.
Small and Stylistic
One of the best qualities of triptych mirrors is that they do not have to be large to have an impactful presence in a space. Therefore, you can even go for a small triptych artwork and install it above the dresser of your bedroom or above a sofa in your living room to get a bold and stylistic effect. However, make sure that the furniture that it is arranged above is at the center of your bedroom accent wall for maximum effect.
Medium Sized & Trendy
Medium sized triptych artwork with landscapes in their canvasses evoke a trendy contemporary appeal which means you can be quite versatile. You can hang there lengthways or even hang them down the wall. Plus, you don't necessarily have to buy a triptych, you could buy 3 designs in the same size that all fall within a theme or colour scheme.
You can easily arrange them above your media console in the living room, or above a minimalistic headboard in a simple bedroom interior or even a bare corridor wall. They're a great way to accessorize your spaces in an understated yet impactful manner.
Explore Mirror Mania's Artistic Mirrors here or our Modern Mirrors and see how you can create your own Triptych from the collection:
How to Hang Your Triptych:
Lie your art work flat on the floor and decide on the ideal spacing between each panel.
Measure the height and width of each panel.
Measure the height of the wall that your Triptych will hung on
Always start with the centre piece of the triptych first. Mark the centre of the wall at 60" from the floor with a pencil so that you can hang your Triptych at central eye level – This is known as 'Museum Hanging' and will give your artwork the best possible impact.
Place the centre at this central mark and ask a friend to mark the wall at the top of the artwork once you have positioned it correctly. You need to use this pencil mark as a guide for hanging the other two pieces, so it is really important that you get the central piece exact.
Using a tape measure, measure the width of the whole artwork taking into account the spacing between making sure that the it is central to the first mark you made. You need to mark a line across the wall so use a spirit level to ensure that the other pieces will line up with the first. Use chalk so that you can easily clean it off the walls after.
Next, you need to mark the central points for the other two panels. Make sure you take the spacing into account and measure across to the centre of each panel.

For example. If you want a 3-inch space and your panels are 25 inches wide you would measure 28.5 inches (12.5 + 3 + 12.5) from the centre of the middle panel on each side.

12.5 inches (half of the centre panel)
3 inches (chosen spacing between the panels)


12.5 inches (half of the centre panel)

Add brackets to the walls at the central point you have marked off.
Hang each panel and ensure they are aligned.
Voila! Your masterpiece is ready to shine.
Tips for hanging a Triptych:
Here are a few tips to remember while hanging your triptych artwork and mirrors:
Styling: Start with the Triptych first. If you have selected a large triptych or a very detailed triptych for your room, it can be a great catalyst for designing the rest of the room.
Placement: Placement of the artwork with respect to the furniture and other accessories is very important when creating balance in a room. Making sure that you do not place it too high or too low is key.Keep your frames aligned with any surrounding décor features – Make sure any furniture is kept in line otherwise your artwork's impact may be thrown off.Mirrors are best placed in spaces where they can reflect the most amount of light.
Scale: Scaling of the artwork or mirror with proportion to the room is also really important. We mentioned earlier in this post about selecting oversized artwork for smaller minimal rooms, but you need to be carefully stylistic about how the room is decorated so that it doesn't look too cluttered.

Similarly, if you're using smaller sized artworks like we suggested for the dresser in point 4 make sure that the art is the highlight of that particular side of the room. If you pair too many accessories with smaller sized triptych's, you'll end up visually cluttering your space.

It's also best to consider the scale of your furniture before hanging the artwork or mirror. The combined aspect ratio of your triptych artwork has to be two thirds or three quarters of the furniture it's hung above.

Spacing: The spacing between triptych artwork is usually 2-4 inches in small rooms and 4-6 inches in larger rooms but this can often depend on the design on the triptych.
Glass and Mirrored Art: Glass and mirrored art is much heavier than a traditional Triptych Canvas so ensure that you are using the correct brackets to hang your art to the wall safely.
If you need someone to help you install your glass triptych, please let us know and we will see how we can help.
Photo's sent in by some of our customers of their beautiful homes featuring some of Phillip's designs: