Delivery Guidelines
All the prices quoted on the website include Standard Delivery to Mainland UK – excluding the Scottish Highlands and any UK Islands – including Isle of Wight, except where indicated, for example, the product may only be available for collection from our Showroom.
Delivery Charges to Non Mainland UK and International Destinations
The prices quoted on the website are only for Standard Delivery to Mainland UK addresses (with above locations excepted).  Please contact us for a quotation to locations other than mainland UK by contacting [email protected].
All quotations given will not include any local taxes or duties that may be charged by that country's taxation laws. Insurance against loss or damage on overseas delivery is also available.
Delivery Times and How We Deliver our Products
From June 2023, as our workshop closes for Summer Holidays in July, delivery for handmade mirrors is approximately 10 weeks – depending on the complexity of the design, however, if you would like a shorter delivery time and we will do our best to work with you. 
Bespoke items generally take longer, however, if you would like a definite delivery time line before ordering, please contact us and we will be able let you know.
Delivery for Home Decor items is generally 1 to 6 weeks,  however, this may vary depending on the product but you will be advised by email at the time of order confirmation.
Once your mirror order is ready for delivery, we will contact you to organise a convenient delivery day. For Home Decor items, you will be advised when your order has been dispatched and given an estimated delivery time.
Please note that if you are not available to receive the mirror or furniture item delivery on the date agreed and organised, there will be a cost to for the collection/return/redelivery of the item.  This cost will vary as it is dependent on the carrier and other costs incurred as a result of the delay. There may also be a storage charge for any mirrors that cannot be delivered.
How we Package our Products
We take every care to ensure that our goods arrive with you in one piece by carefully packing them with tailor-made packaging materials.  We will either use handmade timber crates or, for the fragile hand delivered service, protective covering and edging.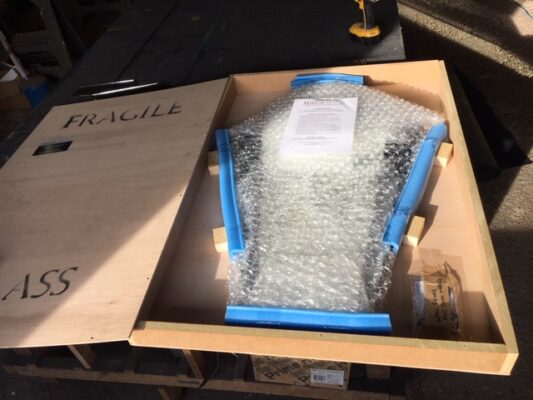 Please keep the packing materials until you are sure that your are happy with your purchase as they will be be needed should you need to return the goods.
Courier and Specialist Fragile Delivery Services
All of our mirrors are delivered by well-established and reliable courier services.
Standard Delivery Service only apply to deliveries to Ground Floor locations and include a One Man delivery service. 
Should you need delivery to a location other than the ground floor, or it is particularly heavy,  it may be necessary for you to provide assistance to the courier in the unloading of the mirror.
Should this not be possible, please advise us in advance so that we can provide you with a quote for an additional person to be available to assist in the carrying of the mirror into/out of your home.
In the event that the mirror is delayed or cancelled due to circumstances beyond our control, for example, snow, road accidents, etc., we will organise another delivery time as close as possible to the original delivery date.
What to do When Your Mirror/Product Arrives
It is very important that when your mirror/product arrives that you inspect the mirror/product for any damage.  In the unfortunate event that the mirror/product is damaged, please complete the courier's paperwork making note of the damage.  Please then send an email to us the same day to [email protected] advising us of the damage.  We may also require photos of the damage.
There may also be a storage charge of any mirrors that cannot be delivered.