Award Winning British Mirror Manufacturer
Welcome to our range of exclusive and unique hand-crafted mirrors and decorative glass products and original artworks.
All of of the mirrors in our award winning range of hand-made mirrors are designed by our own in-house designer, Phillip Orr – who is one of the UK's leading mirror artists – creating exciting and creative pieces for over 20 years.
All of our mirrors and decorative glass panels are hand-crafted in the company's Norfolk workshop, using special patented glass and mirror techniques to make outstanding flat and 3D mirrors, mirrored artworks and decorative glass products.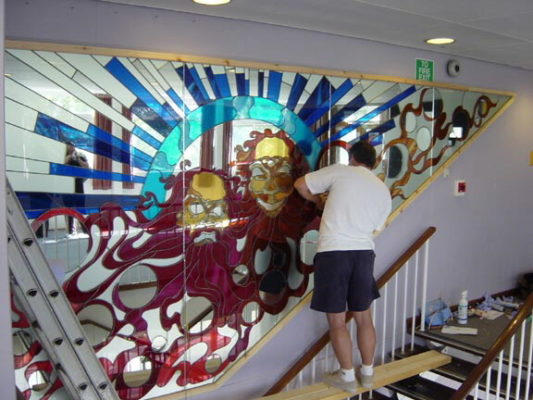 At Mirror Mania we understand that it is difficult to find the perfect finishing touches to suit your home or project, so all of our handmade mirrors can be adjusted to a size or colour to suit your home or project.
We can also add LED lighting which is particularly popular for mirrors that are placed in bathrooms.
If you have an unusual shaped wall and need a mirror made to fit then we can also help with that too!
Whether you want a standard mirror, a unique decorative glass panel for a door, ceiling or window, we can help with all your requirements!
To assist with creating a unique mirror or glass panel, we offer a computer-generated artwork service which gives our customers the opportunity to see the finished piece before work has started, and make any changes if needed.
Using high quality materials including glass, mirror, colour film and electrophoretic coated lead trim profiles, we are able to create bespoke, quality products that are completely unique to you and something to treasure!